Ep.9
O n T i M e ?
some stuff i tried didn't work out. There's always next time.
I'm pressing forward with a memorial weekend post because what do i have to lose. We got a crunchier playlist this week, an interview with sewnfkt, 3 albums i caught on my tl, met the people at world wide waste
https://soundcloud.com/vomitsuck https://soundcloud.com/onumi2/sets/the-feel-of-your-fist-against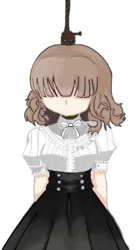 sewn the maid
sewnfkt and also trashwave
I've grazed surface deep into it many times but being such an obscure genre, I had questions. With a few of em written down I went and barged into sewnfkt's dm's and just started asking, starting with a couple "what is it anyway" ass ones
Described to me as a statement "to distortion, to music production, to genres, to imagery and the way things should be done.", it's a genre comprised of everything great in music: blown-out and peaking synths, crunchy drums and dysphoric, chilling melodies.
>Art by vstrid, A World Wide Waste member
Originally an extension of witch-house from the early 2010's, it has evolved into it's own entity. Cited early inspirations are artists like SALEM, crim3s and white ring, later followed by people like sadwrist, 666vandal and Axius link. Asked why these sounds took root, sewnfkt stated: "it's a very deliberate dismissal of typical mixing and producing styles: everything is very blown out and set to the top and the best part is eye don't even know if we intended for that to be the way it is."
When asked who some important members in the scene were, sewn didn't hesitate "eye think the most important person in the entire scene is sadwrist, 666vandal or princess's guilt". We joked around about the genre and the experiences associated with it, like random 30 follower alt accounts with ear splittingly good tracks and no likes, or a picture of roadkill as song art, which fed into my next questions about the aesthetics, the meaning, the intentionally hard to link and find music, etc.: "the whole part about some of the like, shock art album covers and hard to link tracks and stuff, for me it's a way of pushing away the people eye don't think would enjoy my music anyway. With that in mind eye'm also extremely open to absolutely anybody to listen to my music and eye really like showing people, but it's stumbling onto those types of things and seeing an unpronounceable Unicode title with a picture of some anime girl or something horrible happening and going 'wow this song is insane, how do eye even say this, how do eye link this? the URL is 50 characters long...'
i think people keep it vague on purpose"
With a background on the genre and a small history lesson on the witch-house to trashwave pipeline, I wanted to ask them about themself and how they would describe their sound:
"hopeful! that's my one word answer eye guess"


They continued, "eye think eye make music that kind of feels like it's struggling and sort of fighting to be heard. there's an entire story eye've been semi thinking about for my music with my persona/mascot and stuff. a lot of the vibe is like yeah things are shitty but it's important to keep the strength to get through shit. that's where songs like there is hope and worth a try stem from: optimistic sad music. eye'm kind of a sad person but eye'm certainly not a pessimist, eye try to look up and forward to everything. there are times though where you really can't have the power to keep shit up"
"eye think my best songs have always come from when eye'm at a low point mentally which eye'm not sure how to feel about. eye think it just tends to resonate with people. tracks like nothing is sacred, eye should be dead, kill pedophiles (everybodyisworthlessihavenosoulburneverythingdownihopeeveryonewhodiesgoestohellnomatterwhat), it all comes from deep in my heart".
Now understanding the motivation that goes into their music, I asked them what color razor scooter they would have if they could have a razor scooter with any color wheels and they said: "scooter with white wheels and maid colors like black and white". I had to know, back to the article.
following up on their music, I asked them about their favorite stuff to write: "eye think my favorite part of all of my sound is my ambient work" I followed up with a question about the therapy ambient "eye do have a collection of little genres eye tend to stick by that eye made up. things that eye tag trashwave eye tend to also tag maidwave/maidcore. maidwave is my own thing, it's really just my way of tagging something eye made that generally has the trashwave sound but it's very obviously my work. maidcore however is a total other genre... it's like, Russian ambient post rock"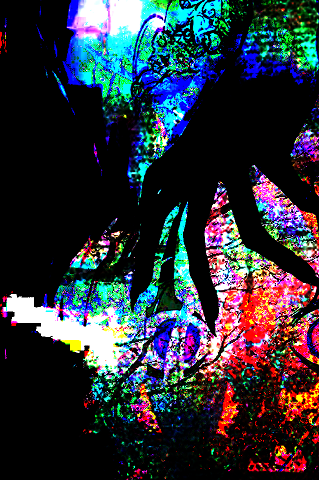 >the other half of the art by vstrid
Playlist Updates!
>†ALE† - 越. BETHOLD. 乃乃.[[[ⲘⲞꞄⲈ ⲦⲞ ⲤⲞⲘⲈ]]].乃乃
> seraphdive + mikano - 𐄱𐄱🆄🝒🆁⛮🅸𐄱𐄱
> mikano - ክ ት ል ዩ (feat. mvshvrski)
> vomitsuck - ꢓ կ҉տ ҉ր҉ վ҉ա҉ծ ҉ժ ҉պ҉ ի҉տ҉ ꢮ
>Yem - Drowning Moon
>Tazia - :p t0ngu3 0ut
>QIREXX - nacht der gabber >[EUPHORIA SYSTEM] - THE FEEL OF YOUR FIST AGAINST MY FACE >Kiitzuna - SAMSARA无尽的
Things that happened This Week[ish]:
Omumi's Side Project Euphoria system has an EP now
A great EP. It's literally Ædith bait: bouncing back and forth between megubreaks and a natural evolution of what Myrkogh was, this ep is a treat and I hope she continues to do more with this sideproject
The cordfuck people have been busy this week:
A very ambient breaks album. Still manages to have intense chopped breaks, extratone and haunting/droning melodies, now with 80% more chill. So far Samsara has been my favorite track on the release
Not my normal go-to style, but these are solid quality remixes if you're into the hyper wired-core kinda sounding breakcore stuff. Full of breakcore remixes of hardcore punk, pop punk and emo music, it's quite the interesting project and it's done well. TRACK SEVEN is my favorite off the album
I was jsut informed it was a joke album but it was still fun so who really won here?